Healthy Alliances Matter, Duluth NAACP & Wilderness Health Organize Community Events & Resources to Reduce COVID-19 Community Spread – Mask Up/Back Up/Vax Up!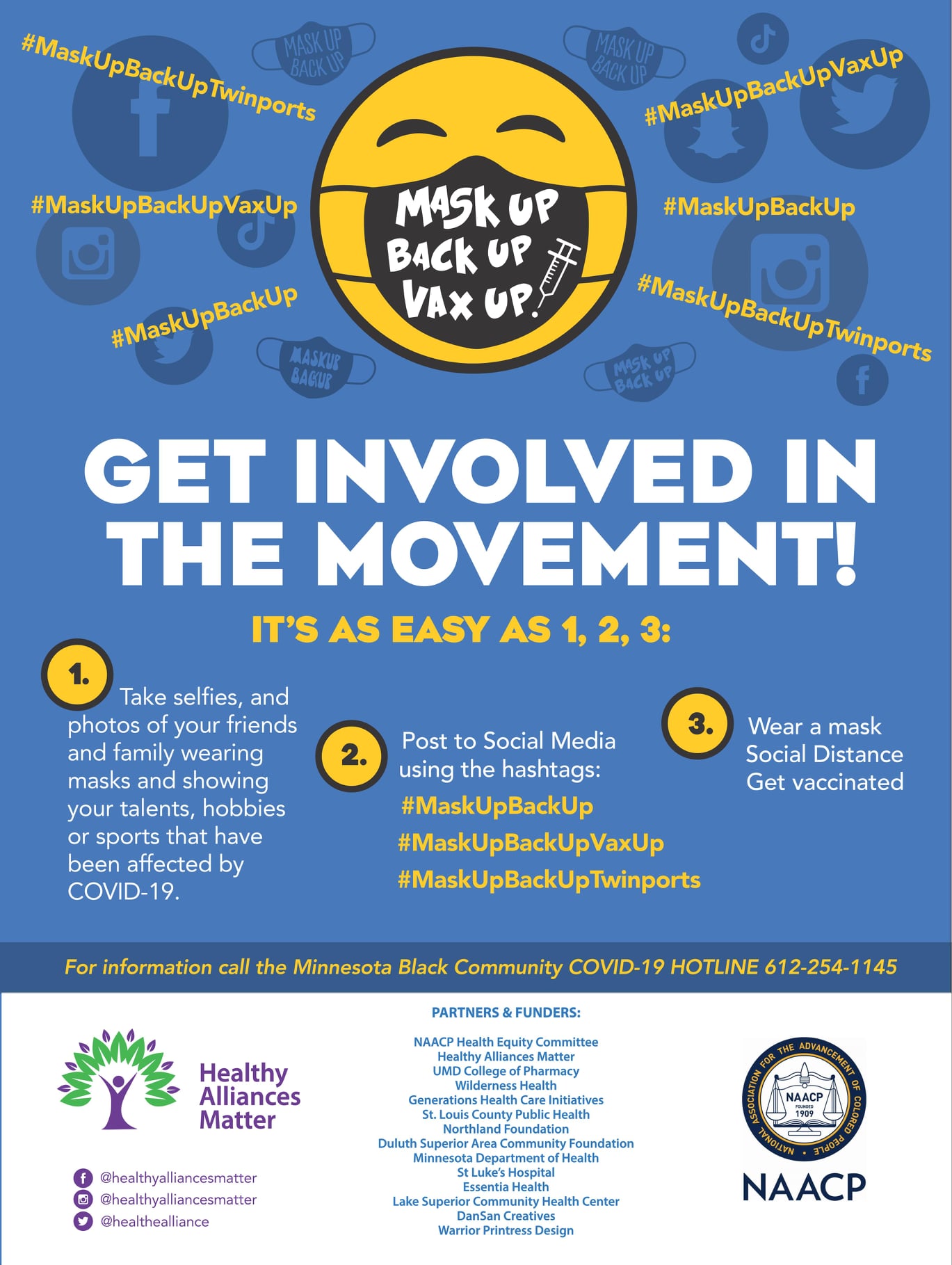 Healthy Alliances Matter, Duluth NAACP, and Wilderness Health are pleased to introduce its Mask Up/Back up/Vax Up Campaign. The goal of the campaign is to provide pandemic medical information from trusted community sources to help combat the community spread of COVID-19 for the African Heritage Community.
BECOME INVOLVED: attend one of the collaborative's upcoming events:
African Heritage Community Virtual Town Hall
Date: January 27, 2021 from 5-6:30pm
Topic: COVID-19 Needs Assessment of the African American Community Findings
Intended Audience: Northland African Heritage Community
Zoom Link: https://us02web.zoom.us/j/89112577527.
Meeting ID: 891 1257 7527
Call in: 312-626-6799
COVID-19 Needs Assessment of the African American Community Presentation of Findings
Date: February 5, 2021 from 12-1:15pm
Topic: African Heritage COVID-19 Outreach Research Results and Community Recommendations
Intended Audience: Northland Community Members
Please register in advance for this meeting:
https://us02web.zoom.us/meeting/register/tZMpce2przsoGtywCXznhYy28_lPLTwbHNEw
Meeting ID: 874 6411 0208
LEARN MORE: visit the collaborative's new website: https://www.healthequitynorthland.org/
The website aims to become a centralized place where the Northland African Heritage Community can seek trusted information from trusted community African Heritage healthcare professionals and to facilitate partnerships among community-based organizations and healthcare systems to address long-standing health-care inequities.
About Healthy Alliances Matter - Building community resiliency and sustainability that works for everyone. Developing and managing solutions that will make a difference in programs, policies and procedures, turning the curve on the stories and impacting community goals for healthy places to live work and play.
A Community will survive and prosper as a whole when we are all walking on even ground
About Duluth NAACP - The mission of the National Association for the Advancement of Colored People is to ensure the political, educational, social, and economic equality of rights of all persons and to eliminate race-based discrimination. The Duluth Minnesota Branch embodies the mission statement of the National NAACP by working to bring unity in our local communities.
Our vision for the Northland is one with equitable opportunities for people of African heritage and other marginalized communities.
About Wilderness Health- a non-profit collaborative of independent providers working together to improve health care in Northeastern Minnesota. Headquartered in Two Harbors since 2013, Wilderness Health brings smart strategies, such as shared services, quality improvement, and accountable care organizations, to Minnesota's rural health care systems.
Additional partners include:
MINNESOTA DEPARTMENT OF HEALTH
GENERATIONS HEALTH CARE INITIATIVES
UMD COLLEGE OF PHARMACY
ST. LOUIS COUNTY HEALTH
NORTHLAND FOUNDATION
DULUTH SUPERIOR AREA COMMUNITY FOUNDATION
ESSENTIA HEALTH
LAKE SUPERIOR COMMUNITY HEALTH CENTER
ST LUKE'S