St. Luke's to Host Ceremony Honoring Organ Donors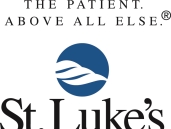 WHEN: Friday, April 16, 2021
TIME: 12 p.m.
WHERE: Outside St. Luke's Pavilion Building, 920 E. 1st Street
WHAT: St. Luke's will host a special ceremony to recognize the importance of organ, tissue and eye donation. The event will include a flag raising ceremony to honor donors for their generous gifts of life and sight.
In the United States, there are more than 107,000 men, women and children on the waiting list for a life-saving transplant. To learn more about donation visit http://www.organdonor.gov.