St. Luke's Hospice Earns Designation for Veterans Care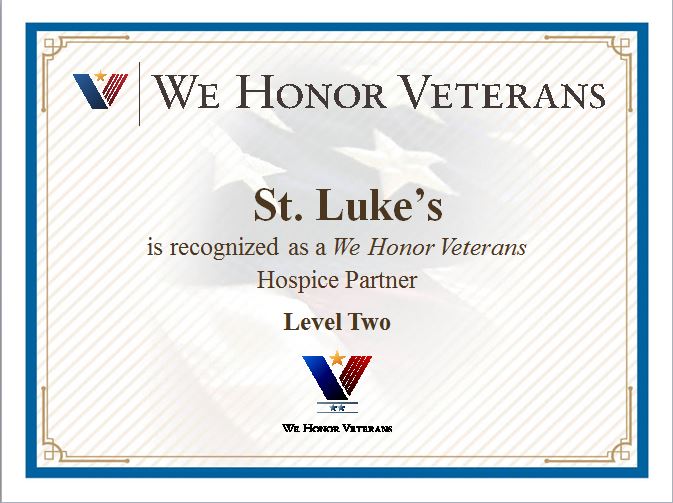 St. Luke's Hospice has been awarded the National Hospice and Palliative Care Organization's We Honor Veterans Level Two Certificate for the care it provides veterans.
Twenty-five percent of all deaths in the United States are veterans. That's 1,800 people a day; more than 680,000 veterans every year. These heroic Americans deserve recognition for their military service– particularly at the end of life's journey. That is why the pioneering campaign of We Honor Veterans was created for hospice and palliative care providers.
"Through the program, St. Luke's is able to better recognize the unique needs of veterans who are facing a life-limiting illness, and can accompany and guide them and their families toward a more peaceful ending," Kathleen Krokum, St. Luke's Hospice Manager said. "In cases where there might be some specific needs related to a veteran's military service, combat experience or other traumatic events, our providers now have more tools to help support their patients."
The resources of We Honor Veterans focus on respectful inquiry, compassionate listening, and grateful acknowledgment, coupled with veteran-centric education of staff caring for veterans. Organizations who have earned the Level Two Certificate must conduct at least three veteran-specific presentations for administrative and clinical staff and volunteers, conduct veteran-specific outreach presentations at a minimum of two veteran organizations, integrate a military history checklist process, and conduct reviews of veteran-specific practices in their hospice program.
For more information visit WeHonorVeterans.org.