St. Luke's Hosts Ribbon Cutting for Remodeled Inpatient Pharmacy
St. Luke's Inpatient Pharmacy celebrated its $1.5 million remodel with a ribbon cutting ceremony. The project expanded the Inpatient Pharmacy from 2,600 square feet to more than 4,200 square feet.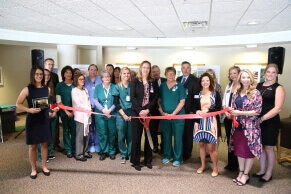 The remodel took more than two years of careful planning and construction. The design for the new St. Luke's Inpatient Pharmacy was created by Scalzo Architects. Construction was by Donald Holm Construction Company.
"We couldn't be more excited to work in this revitalized pharmacy," St. Luke's Director of Pharmacy Gina Lemke, Pharm.D., said. "The remodel has given us a lot of new great features, and really helps us to better meet today's needs."
The remodel also means having one consolidated workspace instead of offices spread throughout several locations. Other new features of St. Luke's Inpatient Pharmacy include sterile cleanrooms, a designated shipping and receiving area for pharmacy buyers who purchase medications for patients, and a unique workstation that includes controlled lighting and acoustics for pharmacist order review.
The project also gave the pharmacy important security upgrades. The new security features include cameras, a package passer, and attack-rated glass at the pickup window and entrance to the pharmacy.