St. Luke's Goes Live with MEDITECH Expanse
St. Luke's recently launched MEDITECH Expanse, a web-based Enterprise Health Record (EHR).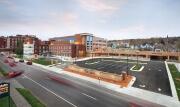 The move to Expanse enables St. Luke's to connect patient information throughout the continuum, providing clinicians a complete view of the patient for enhanced care and quality outcomes.
Providers are now able to access the complete patient story and share data throughout its two hospitals and 44 clinics. The move to Expanse connected St. Luke's 240 providers and enabled the organization to share one, integrated EHR.
"We are excited to launch Expanse because it streamlines how we access and share patient information across our system," St. Luke's Information Technology Director Clark Averill said. "Having this system is a win for our patients and our staff."
A customer since 2002, St. Luke's partnered with MEDITECH on this project because of its long-standing relationship and collaborative approach to providing solutions that are designed to enhance patient care. The value and sophistication of the EHR were also key factors in St. Luke's selection of Expanse.
"It is an honor to partner with St. Luke's to help elevate the patient experience and furnish its healthcare providers with technology that supports their efforts in delivering safe, quality care," said Helen Waters, executive vice president at MEDITECH. "We value our long-time partnership with this progressive organization, and look forward to seeing them leverage Expanse to meet their evolving needs."
St. Luke's is utilizing MEDITECH's acute, emergency department and ambulatory solutions.