St. Luke's Honors Organ Donors with Rededication of Wall of Heroes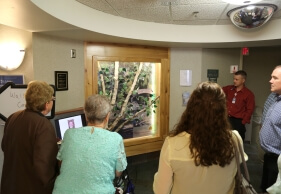 St. Luke's hosted a re-dedication ceremony today to honor the generous gifts of life and sight given by organ, tissue and eye donors over the past few years. Attending the ceremony were families and loved ones of donors, community organizations and medical staff.
The Wall of Heroes is the first memorial of its kind built in northern Minnesota, originally dedicated in 2015. The Wall of Heroes memorial was handcrafted by three St. Luke's Intensive Care Unit nurses, Pete Boyechko, David Johnson and Jeremy Nelson, who have worked closely with patients and their loved ones through the donation process. Together, they created a hand-carved display with a tree featuring unique stained glass leaves representing donors' generous gifts of life and sight. The tree symbolizes the tree of life and the leaves honor donors who gave the gifts of life and sight. The memorial is permanently displayed in the second floor rotunda of St. Luke's Hospital.
St. Luke's President and CEO John Strange said, "We have been privileged to work with families throughout the donation process and it is an honor to be here with donors' families today to share our appreciation for their incredible gift."
In the United States, there are more than 114,000 men, women and children on the waiting list for a life-saving transplant. To learn more about donation and to sign up as a donor, visit http://www.organdonor.gov/becomingdonor/.