Cancer Management: Tips for Improving Your Quality of Life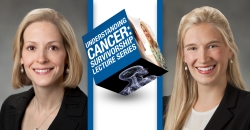 St. Luke's Understanding Cancer Survivorship Lecture Series
WHEN: Tuesday, February 20, 2018
WHERE: Marshall School Chapel, 1215 Rice Lake Road, Duluth
TIME: 5:30-7 p.m., with a light dinner and refreshments at 4:30 p.m.
WHAT: St. Luke's Regional Cancer Center is pleased to host "Cancer Management: Tips for Improving Your Quality of Life," as part of the Understanding Cancer Survivorship Lecture Series. St. Luke's Physical Medicine and Rehabilitation Specialist Dr. Leslie Cavazos and St. Luke's Interventional Pain Management Specialist Dr. Kathryn Thompson will share how physical therapy, fall prevention education and nutrition help with managing cancer after treatment. Before the lecture starts, a light dinner will be served.
The event is free and open to the community.