St. Luke's Promotes Jennifer Viergutz to Director of Laboratory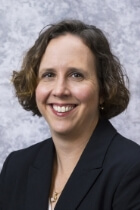 St. Luke's is pleased to announce the promotion of Jennifer Viergutz to Director of Laboratory.
Viergutz graduated from the College of St. Scholastica with a Bachelor of Arts degree in Clinical Laboratory Science. She also earned a dual Master of Arts and Master of Business Administration degree with a focus on Healthcare Leadership from the school.
Viergutz started as a generalist at Lake View Hospital in Two Harbors 17 years ago and then moved to St. Luke's. She has held a variety of positions in the laboratory including technical specialist of the immunology section, technical services coordinator and most recently, operations manager.
Viergutz begins her new role following the retirement of Jean Elton Turbes, who was Director of Laboratory for 15 years.