Responding to Traumatic Events: How St. Luke's Helped a Student Recover from an ATV Accident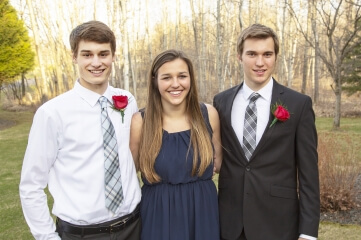 Published in Moms & Dads Today magazine, July/August 2017
Responding to Traumatic Events
How St. Luke's Helped a Student Recover from an ATV Accident
For high school student Isabelle (Izzy) Stauber, August 9, 2015, was just another day. Until it wasn't.
"I was at my cabin with my cousins one Sunday, and we decided to take the four-wheelers out," Izzy explained. "One second, I was driving the ATV down the road, and then suddenly, I was stopped. My cousin told me afterward that I had swerved into the ditch and hit a tree."
Her cousins knew she was badly injured. One of them sprinted back to the cabin to alert his dad (Izzy's uncle), who immediately took her to St. Luke's Regional Trauma Center. Izzy's family met her there, where everyone was in tears and in shock from what had happened.
While it was clear her left wrist was broken, the doctors were more concerned about internal injuries. An emergency doctor, trauma surgeon, neurosurgeon, and orthopedic surgeon each thoroughly evaluated her. "It was so reassuring having each specialist come in and look Izzy over," said Izzy's mom, Jessica Stauber, who works at St. Luke's. "I knew if anything was wrong, they would find it."
At the time of the accident, Izzy was wearing a helmet, but it flew off when she hit the tree. The doctors determined she was suffering a concussion, also known as a traumatic brain injury. A CT scan revealed a small bleed at the base of her brain. "It was so scary because we didn't know how badly her brain was injured," said her mom. "We needed to monitor and wait. Our entire family prayed and prayed and prayed."
Izzy went into surgery to have her broken wrist set. St. Luke's Orthopedics & Sports Medicine's Dr. David Rust. He inserted a large metal rod into her wrist to keep it in position during the healing process.
Izzy spent that night in the ICU. "I stayed by her side the whole night, still not knowing how bad her brain injury was," said her mom. "She never lost consciousness, she was not paralyzed – we had so much to be grateful for." Early the next morning, another CT scan was done, and showed the bleeding had stopped. "Our prayers were answered."
After one more night at St. Luke's, Izzy was able to go home. But the effects were lasting. Her concussion and broken arm affected her into the school year, keeping her from soccer and hockey practice. Through it all, Jessica appreciates how well St. Luke's took care of not only her daughter, but her whole family.
"Most parents would trade places with an injured child in a heartbeat," said Dr. Mark Monte, Izzy's trauma surgeon. "That's why we're always open and honest with the patient's family, reassuring them throughout the process."
Avoiding ATV Accidents
According to Dr. Monte, "ATV accidents are far too common in our region," mostly due to the abundance of outdoor space. Even with the best precautions, accidents can happen. And those accidents can be especially tough on children.
"The severity of injuries in accidents can be higher in children because of their size, but also because children likely haven't experienced an event that would cause them to be more careful," Dr. Monte explained. "Most people don't think trauma will happen to them, and that's especially true for younger people."
Dr. Monte continued by pointing out that both the American College of Surgeons and the American Academy of Pediatrics recommend that no child under the age of 16 should drive or ride an ATV. Knowing that it may still happen, Dr. Monte recommends wearing a helmet (at any age), taking a proper training course and keeping youth on youth-model ATVs. Adult ATVs are too powerful and fast for children.
What to Do After a Traumatic Event
If something does go wrong, St. Luke's Regional Trauma Center – the region's first trauma center – can provide immediate expertise and care.
"In trauma, we're ready to provide outstanding care to whomever comes through the doors 24/7, 365 days out of the year," said Dr. Monte. "At St. Luke's Regional Trauma Center, we're trained and committed to responding immediately, bringing the needed skills to every patient."
Ultimately, the decision of where to go in a traumatic event comes down to comfort and trust. For Dr. Monte, there is no question. "I am profoundly confident that the team at St. Luke's is who I'd want taking care of my family."