St. Luke's Announces New Investment in Community of Ashland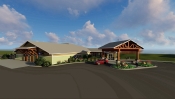 St. Luke's is excited to announce its plans to invest in Ashland by building a new Chequamegon Clinic, along the shores of Lake Superior.
The new 22,000-square-foot clinic will be built along the north side of U.S. Highway 2 between Culver's and the Ashland Honda Toyota dealership. It will preserve views of the lake from roadways and public spaces and feature lakefront views throughout the building.
"When St. Luke's decided to invest in Ashland by building a new clinic for the community, we wanted to create a plan that respects and serves community needs and interests and embraces the history of Ashland and the inherent beauty of Lake Superior," said St. Luke's Vice President of Support Services Mike Boeselager. "We know this is the perfect spot for the clinic because of the easy access it offers patients and the environment for healing."
The building will provide a state-of-the-art clinic for patients. Currently the clinic is staffed with eight primary care providers, but the new clinic will provide enough space for growth up to 12. For the first time the clinic will also offer physical therapy services, imaging and mobile MRI imaging. Chequamegon Clinic will continue to offer 17 outreach specialty services at its new location. They include cardiology, obstetrics and gynecology, orthopedics and sports medicine, urology, endocrinology, rheumatology, neurology, physical medicine, pulmonology, general surgery and vascular surgery.
"Our patients' needs are growing. With the ability to offer patients more services, we'll be able to serve them better, close to home," said Clinic Manager Denise Kontny.
The new space also means physicians will be able to continue their long-standing tradition of providing quality care to residents along the South Shore.
"Chequamegon Clinic has been a mainstay in this community for decades," said Dr. Thomas Cunningham, who works at the clinic. "We're proud of the care we provide, and this new space will allow us to offer more services in a beautiful place that's more comfortable for everyone."
A groundbreaking ceremony for the clinic is being planned for late spring. The clinic is expected to open in early 2018.