St. Luke's Q Care Express Welcomes Anna Greiner, PA-C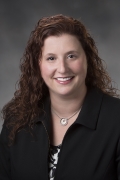 St. Luke's is pleased to announce Physician Assistant Anna Greiner has joined St. Luke's Q Care Express Clinic.
Greiner completed her Master of Physician Assistant degree at the University of Utah School of Medicine in Salt Lake City in 2005. She earned her bachelor's degree from the University of Wisconsin, Superior. Prior to joining St. Luke's, Greiner was a staff physician assistant for Golden Heart Emergency Physicians in Fairbanks, Alaska.