St. Luke's Electrophysiologist Dr. Jeffrey Munro Begins Outreach Services in Hibbing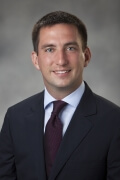 Dr. Jeffrey Munro, an electrophysiologist with St. Luke's Cardiology Associates, is now seeing patients at St. Luke's Hibbing Family Medical Clinic. Dr. Munro is the only electrophysiologist providing care for patients on the Iron Range.
Dr. Munro received his Doctor of Osteopathic Medicine degree from the University of Medicine and Dentistry, School of Osteopathic Medicine in Stratford, New Jersey. He completed his residency in internal medicine and a fellowship in cardiology there, and a fellowship in clinical cardiac electrophysiology at the Mayo Clinic in Scottsdale, Arizona. Dr. Munro is board certified in cardiovascular disease and internal medicine.
Dr. Munro will see patients once a month at the Hibbing Family Medical Clinic. Talk with your primary care provider about a referral.