St. Luke's Names Suzy Johnson as Director of Health Information Management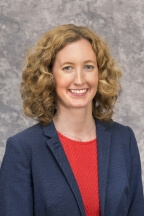 St. Luke's recently named Suzy Johnson, MS, RHIA, Director of Health Information Management.
Suzy Johnson has been a member of health information management department at St. Luke's since 2002 and has served as the Manager of Processing and Data Integrity since 2010. Suzy graduated from The College of St. Scholastica with a bachelor's and a master's degree in health information management. She is an adjunct instructor in St. Scholastica's health information management department and is the current treasurer of the Minnesota Health Information Management Association (MHIMA).
In her new role as Director of Health Information Management, Suzy is responsible for directing the operations of the department, which includes coding, transcription, medical staff credentialing, clinical documentation improvement, cancer registry, medical record processing, and release of information. The health information management department is integral in maintaining organized and accurate records while adhering to strict standards for privacy and security.