St. Luke's Medical Arts Clinic Welcomes Dr. Like He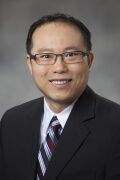 Dr. Like He joined St. Luke's health care team as a member of St. Luke's Medical Arts Clinic.
Dr. He received his medical degree from Guangzhou Medical College in Guangzhou, China. He completed his residency in Internal Medicine at Cedar Rapids Medical Education Foundation in Cedar Rapids, Iowa. Dr. He is Board Certified by the American Board of Family Medicine.
Prior to joining St. Luke's, Dr. He was a Family Physician for Mosaic Life Care Clinic in Gladstone, Missouri. He also spent a year with Emergency Practice Associates providing shift coverage for emergency departments in several rural hospitals in Iowa.
Dr. He has experience in complementary medicine and acupuncture.