St. Luke's Cardiology Associates Welcomes Electrophysiologist Dr. Jeffrey Munro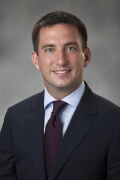 St. Luke's welcomes Dr. Jeffrey Munro to St. Luke's Cardiology Associates.
Dr. Munro received his Doctor of Osteopathic Medicine degree from the University of Medicine and Dentistry, School of Osteopathic Medicine in Stratford, New Jersey. He completed his residency in internal medicine and a fellowship in cardiology there, and a fellowship in clinical cardiac electrophysiology at the Mayo Clinic in Scottsdale, Arizona.
Dr. Munro is board certified in cardiovascular disease and internal medicine.
Share This Article: