St. Luke's Cardiology Associates Welcomes Dr. Leif Christianson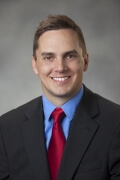 Dr. Leif Christianson has joined St. Luke's health care team as a member of St. Luke's Cardiology Associates.
He received his medical degree from the American University of the Caribbean School of Medicine in the Netherlands Antilles.
Dr. Christianson completed his residency at the University of Missouri-Columbia in internal medicine, and spent a year there as a clinical instructor of medicine and chief medical resident.
He completed his fellowship in cardiovascular disease at the University of South Florida. During that time he served as chief fellow. He has research experience in heart attacks and cardiac rehabilitation.
Dr. Christianson is board-certified by the American Board of Internal Medicine and is a member of the American College of Cardiology.