St. Luke's Adds Revolutionary Heart Imaging System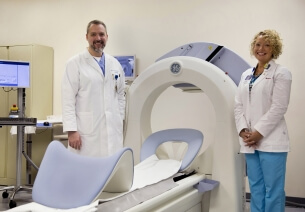 St. Luke's has acquired an advanced nuclear cardiology imaging system that provides highly detailed pictures of the heart that enable physicians to assess the location, extent and severity of heart disease quickly and accurately. This is the first imaging system of its kind north of the Twin Cities.
The Discovery™ NM 530 nuclear imaging system from GE Healthcare uses revolutionary Alcyone technology to improve scanning speed and diagnostic accuracy. With conventional nuclear cardiac imaging, a patient must hold their arms above their head for two scans that take 15 to 20 minutes each. With the Discovery NM 530c, the scanning time is reduced to three to five minutes for each scan. This reduction in time can be more comfortable for a patient, and possibly reduce artifacts in the scan caused by patient movement due to uncomfortable positioning or anxiety. The new shorter, more comfortable scan has the opportunity to improve image quality, allowing medical providers to be even more confident in their diagnosis.
"Our Discovery NM 530c system greatly improves the level of care that our physicians can provide for heart patients," said Scott Studden, St. Luke's director of diagnostic imaging. "We selected this system because of the quality of images and the speed of results." For many patients, nuclear cardiology studies can be a trying experience. However, this non-invasive test is a safe, painless and cost-effective method for gathering functional information of a patient's heart to help physicians determine the right diagnosis and treatment. It can help postpone or reduce the need for surgical procedures or more expensive and invasive diagnostic tests.
"It allows us to diagnose heart disease quickly and with confidence – so we can get patients the appropriate treatment that much sooner," said Dr. James Mohn, St. Luke's cardiologist. "With the Discovery NM 530c system, we continue to raise the level of excellence in healthcare for St. Luke's patients and we are proud to be on the leading edge of advancing the quality of heart care for the community."
Nuclear cardiology studies are an important diagnostic test for detecting the presence of cardiovascular disease (CVD), the single leading cause of death in the US today. According to the American Heart Association (AHA), approximately one in three deaths are attributed to CVD and as the baby boomer generation ages, it is expected that these statistics will continue to rise.