St. Luke's Laurentian Medical Clinic Welcomes Dr. John Ryden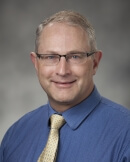 St. Luke's Laurentian Medical Clinic is pleased to welcome Family Practitioner Dr. John Ryden.
Dr. Ryden brings over 20 years of medical experience to St. Luke's. Dr. Ryden enjoys practicing the full spectrum of family medicine from children to elderly patients. "I look forward to being part of the St. Luke's health system and developing relationships with my patients," said Dr. Ryden. "I enjoy developing a care plan for my patients based on their individual needs and goals."
Dr. Ryden completed his bachelor of arts in Biology and English at St. Olaf College in Northfield, MN, his medical degree at Mayo Medical School in Rochester, MN, and his family medicine residency at David Grant USAF Medical Center at Travis Air Force Base in California. He is board certified by the American Board of Family Medicine and was previously named Physician of the Year by the Lake Superior Medical Society in 2007.
Prior to joining Laurentian Medical Clinic, Dr. Ryden worked as a family practitioner at Essentia Health-Lakeside Clinic and as an urgent care physician for Health Partners in Minneapolis.
To schedule an appointment with Dr. Ryden, please call 218.748.7480.