Surgical Robot Test Drive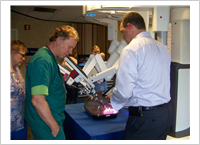 Multiple St. Luke's physicians are currently using robotic surgery for general, urologic, gynecologic and colorectal procedures. The microscopic "hands" of the robot provide many benefits for patients including smaller incisions for minimal scarring, less blood loss, fewer complications, shorter hospital stays and faster recovery.
Obstetrician and Gynecologic Surgeon Susan Goltz, MD, and General Surgeon John Bollins, DO, have both extensively perform robotic-assisted surgeries and are the first surgeons to perform single-site robotic-assisted surgeries in the region.