Make Exercise a Family Affair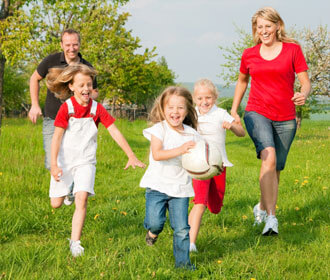 Exercising together is not only heart-healthy, it also brings many benefits to your family, according to Dr. Tammy Juten Psy D, Licensed Psychologist at St. Luke's Mental Health. "Family exercise creates positive memories and a lifetime of experiences and good habits," says Dr. Juten. "I ask my patients after they do an activity, how do you feel?" They say, "I feel better." Activity/movement changes the biochemistry of the brain. Exercise lowers depression, anxiety and it helps us feel physically and emotionally healthier.
Improve family communication
Another benefit of exercising or doing physical activities together is improved communication. Dr. Juten says, "That's because the focus isn't on talking, it's on the activity. Communication becomes uninhibited." For parents, this can open communication channels. If children make a comment that raises a concern, you can then follow up.
A great place for family fun
Duluth is a great place for families because there are so many things you can do together. "In the winter, you can play outdoors. You can build a snowman, go sledding, skating or skiing. Taking a walk is something everyone can do," says Dr. Juten. "In the summer, go biking, go hiking, go to the beach. Just find ways to have fun together." Asking your children to plan or research an activity is another way to get them involved. Dr. Juten says, "If you teach children to value activity, that's something they can carry into the future when they have families of their own. It can help prevent the epidemic of obesity, by showing children this is how we want our lifestyle to be."
Building a strong, resilient family
Making exercise a family affair helps build a strong, resilient family. When people are joking, laughing and sharing, it builds trust and positive feelings for everyone. "When children are feeling anxious or sad, they have a coping skill of exercise to help them improve their mood. Playing as a family becomes the norm for managing life stressors," says Dr. Juten. "This is a way to strengthen and build overall wellness for everyone."