Four Tips for Reducing Holiday Stress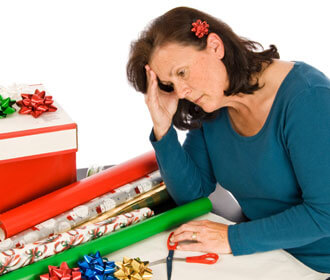 During the holidays, do you see the beauty of the season, or non-stop stress? According to Scott Poupore-Haats, MSW LICSW, of St. Luke's Mental Health Services, "The stress of responsibilities and not having any control over being satisfied for themselves or others can lead people to depression and relentless anxiety. Learning to manage stress and expectations can improve your health and well-being during the holiday season." So before December becomes busy, let's look at four ways you can reduce holiday stress.
none
Holiday inventory. Take a moment and think: what were the holidays you enjoyed the most? What could make them better? Sometimes we get so tied to certain traditions or making the perfect memory that we forget to enjoy the moment. Decide what works well for you and your family, and let go of the rest.
Manage expectations. In 2010, the American Psychological Association (APA) did a poll and found that money was "a significant source of stress." It's more than just sticking to a holiday budget. It's also about managing expectations, including your own. Find ways to be content with what you can afford and have the time to achieve. Be open and realistic with your kids about holiday gifts and expenditures. The holidays go more smoothly when everyone knows what to expect.
Simplify. You can keep the season festive but simple. For example, cut back on the number of decorations you display. Put out some favorites, and save the rest for another year. Bake your family's three favorite cookies instead of baking a dozen different kinds. Use your holiday inventory to help you decide what is important to you. Putting your time and energy to what you decide is important will, in turn, reduce your stress.
Make time for yourself. Between family obligations, extra holiday activities, and volunteering, we find that meeting the needs of others means we often forget about ourselves. Get enough sleep. Schedule time for your favorite hobby. Watch a movie, read a book, play games. Allow yourself time to relax. And if you aren't feeling well, make sure to see your St. Luke's physician. It's important to stay healthy so you can enjoy the season with your family.