St. Luke's Updates Policies Due to COVID-19 Concerns & Launches COVID-19 Nurse Triage Hotline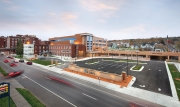 Nothing is more important to St. Luke's than the health and safety of patients, staff and those in the communities we serve. Due to the ever-evolving nature of the COVID-19 pandemic, St. Luke's is making some policy changes. The hope is that these changes will help prevent the virus from spreading.
Inpatient Visitor Policy: Effective at noon today, no visitors will be allowed to our inpatient units. Minor exceptions will be made as follows:
Pediatric inpatients: One adult visitor will be allowed per patient.
Labor and delivery inpatients: One adult visitor will be allowed per patient.
Vulnerable adult inpatients or inpatients who need help communicating to the healthcare team on their behalf: One adult visitor will be allowed per patient.
For general inpatients, rare exceptions to the "no visitor rule" may be made on compassionate-care needs. However, family members must call the hospital/unit before coming to see if they will be allowed.
St. Luke's Main Lobby entrance (corner of 10th Avenue E. and 1st Street) is no longer accessible to the general public. Visitors must come in through the St. Luke's Building A, the SLH Clinic Building, or Northland Medical Center.
Those who would still like to check in with family and friends are encouraged to use other methods of communication like phone calls, Facetime and Skype. These changes are being made to help protect everyone's health and safety. This policy goes into effect at noon on Tuesday, March 17 and will continue until further notice.
Clinic Patient Policy Change: Most clinic appointments are happening as scheduled. Your clinic will notify you if there is a change. However, clinic patients are asked to attend their appointment alone. An additional person is allowed for children or if the patient requires assistance. If an additional person is required, that person must be healthy.
Emergency Department Visitor Policy: Effective at noon today, only emergency patients will be allowed in the Emergency Department. Exceptions to this rule are patients who are pediatric, vulnerable adults, major trauma, or require help communicating with the health care team on their behalf.
COVID-19 Nursing Hotline: In addition to our policy changes, St. Luke's now has a 24/7 Nurse Triage Hotline for people who suspect they may have COVID-19. The number is 218.249.4200. A nurse will be able to answer COVID-related questions and provide guidance for free.
Community Events and Gatherings: In following CDC recommendations regarding gatherings, St. Luke's has cancelled all support groups, community events and community educational offerings and will reevaluate following additional CDC guidelines.
Volunteer Duties and Student/Clinical Rotations Suspended: For the safety of our community, St. Luke's has suspended all volunteers and student/clinical rotations at St. Luke's.
Share This Article: