St. Luke's Opens New Respiratory Clinic and Makes Changes at Urgent Care & Q Care Clinics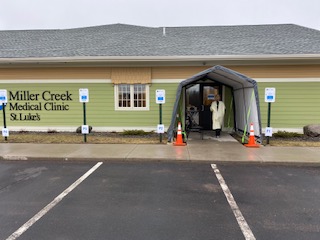 St. Luke's is making changes to better serve and meet the needs of patients during the COVID-19 pandemic.
St. Luke's Respiratory Clinic: St. Luke's has opened a Respiratory Clinic at its Miller Creek Medical Clinic location. The Respiratory Clinic has a completely separate entrance from the regular clinic. It is open seven days a week, 8 a.m. to 5 p.m.
This clinic cares for patients of all ages who need an in-person evaluation for non-emergent respiratory-related issues. People should visit the Respiratory Clinic for the following concerns:
Cold and flu
Sore throat
Runny nose
Sinus, nasal and/or chest congestion
COVID-19 concerns like cough, body aches or fever
St. Luke's Respiratory Clinic is essentially an urgent care for people with respiratory symptoms. "While we are still recommending that patients with mild illness who do not need an in-person evaluation stay home in accordance with CDC and health department guidelines, this is the best place for people to go if they have respiratory health concerns," said Dr. Matt Hansmeier, who helped design this new clinic. "Our goal for this clinic is to keep our patients, staff and community safe and healthy by caring for all respiratory illnesses at one extremely well-equipped location."
Patients will park alongside the clinic building and be checked in at their vehicles. Measures are in place to prevent transmission of respiratory illnesses among patients.
No referral or appointment is needed. People will be seen on a first come, first served basis. Call the clinic at 218.249.4609 if you have questions.
For more information visit: St. Luke's Respiratory Clinic
St. Luke's Q Care & Urgent Care Clinics:
St. Luke's Q Cares at Cub Foods, Lake Superior College and Mount Royal Medical Clinic have temporarily closed.
St. Luke's has also changed its hours of operation at its Denfeld, Mariner and Miller Creek Medical Clinics. They're now open Monday through Friday from 8 a.m. to 4:30 p.m.
Urgent Care at St. Luke's Hospital maintains its usual schedule: open seven days a week from 10 a.m. to 8 p.m.
Learn about COVID-19 and resources available: slhduluth.com/COVID19 
Share This Article: