Acupuncture and Family Medicine at St. Luke's Medical Arts Clinic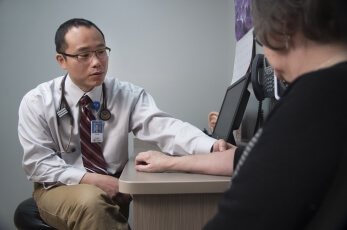 Published in the Woman Today magazine, April/May 2017
Acupuncture and Family Medicine at the Medical Arts
St. Luke's Physician Dr. He Brings the Benefits of Acupuncture to Patients of All Ages
Dr. Like He went to medical school in Guangzhou, China, and received his Master of Science in Oriental Medicine in Los Angeles, California. Studying Western medicine in China and Chinese medicine in the United States may seem backwards to some, but to Dr. He, learning from a different perspective made all the difference.
"Studying acupuncture in the U.S. gave me a deeper understanding because the program is more open and receptive to new ideas," explained Dr. He.
A board-certified family medicine physician at St. Luke's Medical Arts Clinic, Dr. He brings his unique background in medicine, including a residency in Cedar Rapids, Iowa, to care for his patients of all ages.
In addition to providing comprehensive family medicine care, Dr. He also offers acupuncture to his patients. Acupuncture is a form of complementary or alternative medicine where thin needles are inserted into key areas of the body. In trying to explain the process as simply as possible, Dr. He said that acupuncture is the unblocking or opening of the body's energy channels.
"We all have built-in healing capabilities, but through stress, poor diet and lifestyle, the body's intelligent design can become inactivated," Dr. He said. "Acupuncture tries to kickstart that process again by targeting key points of the body."
Understanding the Benefits
To Dr. He, the biggest benefit of acupuncture is that it does not introduce any chemicals or medications to a patient. "The side effects are almost zero," Dr. He said. But the benefits go far beyond that.
Dr. He named a number of conditions that can be helped with acupuncture, which range from headaches to hypertension, chronic pain to morning sickness. He cited both a list published in 1996 by the World Health Organization (WHO) and evidence-based research from Cochrane, which he described as, "The Gold Standard" for treatment effectiveness.
"These well-respected, peer-reviewed studies have found acupuncture to be helpful for a number of conditions," Dr. He explained. "In some cases, acupuncture can be more effective than medication."
Of course, results can vary based on the patient and the condition that's being addressed, which is why it's important to know who is best suited for acupuncture.
Knowing the Patient
Dr. He acknowledges that acupuncture isn't for everyone. Anyone with a fear of needles, for example, would not be a good fit. Acupuncture might not be for you if you've ever fainted while getting blood drawn. Beyond that, acupuncture is often an option for all ages.
"Proactive patients who want to take control of their health would benefit most from acupuncture," Dr. He explained. "Patients with an open mind, who don't want to add medication or who want to try alternative medicine would be a good fit, as well."
The Acupuncture Appointment
A typical appointment is usually around 15 to 25 minutes. Dr. He will select the points based on the patient's conditions and response. The ideal treatment plan is to start with two appointments for two weeks, then one appointment for two weeks, and then once a month. Having the initial appointments closer together can help build a better foundation.
Dr. He will typically use less than 10 needles during an appointment. Because the needles are thin, Dr. He said, acupuncture shouldn't be painful. So thin, in fact, that patients might not even notice the needle.
As a family medicine physician, Dr. He brings a deeper understanding of his patients and their health history than other acupuncturists can. That might be the greatest benefit of all.
"Because I know my patients and their concerns, I'm able to coordinate the care and know when acupuncture could be of benefit," Dr. He said.
Although Dr. He is a family medicine physician, he does not need to be a patient's primary care provider in order for patients to schedule an acupuncture appointment. Acupuncture appointments can be made by calling St. Luke's Medical Arts Clinic at (218) 249-3500; no referral needed.
Share This Article: